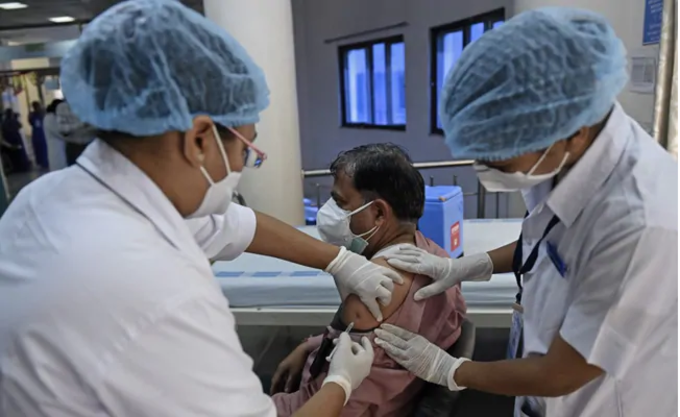 Have you got your registration done too? Know your state's mood if you get vaccinated from 1st May
Health experts say the slow pace of vaccination in Maharashtra could trigger the third wave of infection in the state. This warning has been issued after the Maharashtra government said that it is not going to start vaccinating people aged 18 to 44 from May 1 due to the insufficient number of vaccines available.
Highlights:
In Maharashtra, people between 18-44 years of age may expect to get vaccinated from 1st May
Those suffering from other diseases in the third phase of vaccination in Delhi preferred
Officials waiting for guidelines in Noida, center's data not updated
According to the guidelines of the New Delhi Central Government, vaccinations will start from May 1 to 18 to 44 years of age. Registrations for this have also started on April 28. Despite this, there is confusion in many states about the vaccine dose from May 1. Many states are talking about the lack of vaccines in themselves. At the same time, the Union Ministry of Health said on Wednesday that states and union territories have more than one crore anti-Covid-19 vaccines available and will get 57,70,000 more vaccines in the next three days. Know what is the situation in different states in this regard…
Maharashtra: Vaccination will not start from 1st May
Due to the non-availability of adequate vaccine doses in Maharashtra, the Covid-19 vaccination campaign will not start from May 1 (for the age group 18-44). Sources in the state government say that free immunization can be started after May 15 by forming different age groups. Those of this age will get doses of the corona vaccine only at centers of private hospitals in Mumbai. Only those above 45 years of age will be given the corona vaccine at BMC and government vaccination centers. Corona vaccine will be given free of cost to people in the age group of 18 to 44 years in Maharashtra.
Many people on social media are complaining of difficulty in getting a second dose. When 18 plus people will get the vaccine, then this problem can increase even more. The charge for the vaccine has been kept at Rs 250 for those with 45 plus, while it has been said to be Rs 1500 for those with 18 plus. In this situation, if a hospital refuses to give a second dose, it will be a waste of the vaccine, because a second dose is necessary within two months. The government should immediately issue detailed guidelines so that there is no problem later.
Delhi:
The third phase of the anti-Covid-19 vaccination campaign for people between the ages of 18 and 44 in the national capital Delhi is expected to begin formally from May 1, at a 'moderate pace. People suffering from other diseases will be given preference in this. Officials gave this information on Wednesday. An official said that the Delhi government has ordered 13 million doses of the manufacturers. He said that vaccine supply would be in a phased manner. He said that private hospitals would have to buy vaccine supplements directly from the manufacturers. "The beginning is likely to be moderate and it will pick up gradually," the official said. Vaccination is currently being done at about 500 centers in Delhi.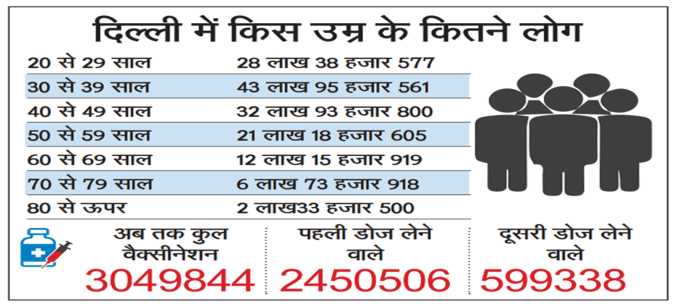 Noida: Waiting for district administration guidelines
may start vaccination as a token in the state from May 1. But people over 18 years of Noida will have to wait for vaccination right now. The concerned officials of the district say that we are waiting for the guidelines to come from the state right now. The health department of the district has not yet updated the information of city centers on it. Due to this, thousands of people got upset on Wednesday and they could not register even if they wanted to. The Nodal officer of vaccination in the district, Dr. Neeraj says that as soon as the guidelines come, we will release the plan accordingly. He says that registration is not being done anywhere in the whole of UP. Only after the guidelines will we be able to update the data of the centers.
Chhattisgarh: Bharat Biotech said, will give dose till July
In Chhattisgarh, since May 1, people over 18 years of age are not clear on vaccination. Bharat Biotech says that it can provide the Corona vaccine dose by the end of July in the state. In such a situation, Chhattisgarh Chief Minister Bhupesh Baghel has written a letter to Prime Minister Narendra Modi, demanding that necessary steps be taken to ensure the availability of Covid vaccine in the state in an easy and adequate manner. Baghel has said that according to an estimate in Chhattisgarh's two crore 90 lakh population, about one crore 30 lakh people are in the age group of 18-44 years, who have to take a total of twenty six million doses.
Telangana: lack of vaccine dose
Telangana wants to get the youth vaccinated fast in the state, but the lack of vaccine dose is becoming a hindrance in them. The government said that till April 27, 38.48 lakh people have been given the first dose of vaccine in the state, while 5.49 lakh people have been given the second dose. With the arrival of 8,061 new cases of Covid-19 in the state, the total number of people infected so far in the state has increased to 4,19,966. At the same time, due to the death of 56 patients in the last 24 hours, the number of people who lost their lives in the state has increased to 2,150.
Rajasthan: 7 crore doses are needed
Rajasthan medical minister Dr. Raghu Sharma said on Wednesday that about 7 crore doses are required for people above 18 years of age in the state and with the central government getting the vaccine, Vaccination will be started. Dr. Sharma said that the number of people above the age of 18 in the state is about 3.25 crore. If both first and second dose and waste are mixed, Rajasthan will need about 7 crore doses. Officials said that the orders placed by the central government will be supplied by 15 May. There are no more vaccines left in the state's storage.
Madhya Pradesh: 60+ and 45+ vaccination stopped for next two days
In Madhya Pradesh, the government has halted vaccination for those above 45 years and above 60 for two days. The government has taken this step from May 1 in view of giving vaccine to 18 plus people. State Home Minister Narottam Mishra called the vaccination against Corona as a defense shield and asked all the people in the age group of 18 to 44 to get their registration done.
Not yet vaccination in these states including
Odisha, Goa; Odisha, Goa, Himachal Pradesh, Jharkhand, Andhra Pradesh and Punjab. The condition of vaccination is not clear from May 1 to people aged 18 years and 44 years. Vaccination will probably not start in these states from May 1.
Difficulties in registration in these states: In
Goa, Bengal, Rajasthan, Kerala, Tamil Nadu, people faced problems related to the app in registration. There was a problem of registration in Bihar as well. People in Rajasthan, Kerala and Tamil Nadu also faced OTP problems.
150 million people have been vaccinated
across the country on Wednesday, with 20 million more people being given the dose of anti-Covid-19 vaccine, the number of vaccinators has reached close to 150 million. The Union Health Ministry gave this information. According to the interim report till 8 pm, the number of anti-Covid-19 vaccine users in the country has increased to 14,98,77,121. The vaccination campaign started in the country from 16 January.