Health Update: Corona positive Randhir Kapoor in ICU to shift, stabilize, do Tests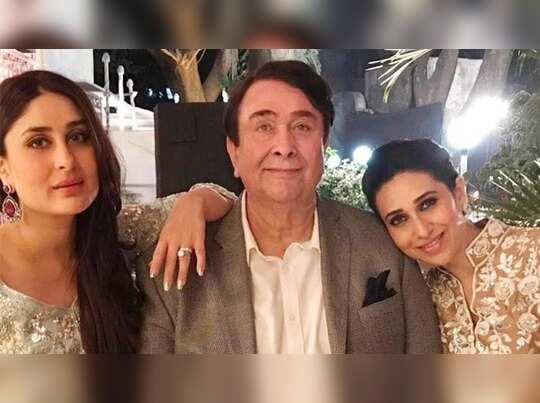 According to the news of ETimes, Kareena Kapoor's father Randhir Kapoor and his five staff have been infected with Corona. According to media reports, Randhir Kapoor has been shifted to ICU (intensive care unit) of Kokila Ben Hospital in Mumbai.
According to news ETimes Kareena Kapoor (Kareena Kapoor) and father Randhir Kapoor ( Randhir Kapoor ) and become infected five staff Corona. According to media reports, Randhir Kapoor has been shifted to ICU ( intensive care unit ) of Kokila Ben Hospital in Mumbai . Randhir Kapoor was admitted to Kokilaben Ambani Hospital in the afternoon on Thursday. Randhir Kapoor told that I have been shifted to ICU so that some more tests can be done.
Randhir Kapoor's condition is still fine - Tina Ambani
Randhir said, "The hospital is being taken care of me a lot and I thank Tina Ambani." Everything is under control. The doctors are taking care of me all the time. Tina Ambani said, Randhir Kapoor was first admitted to a room because the doctor said that he does not need ICU or oxygen. Randhir Kapoor had a cold fever a few days ago, after which he had a Kovid test, which came out positive.
Hospitalized Randhir Kapoor
74-year-old Randhir has been admitted to Kokilaben Hospital in Mumbai. Fans of the Kapoor family have been upset due to Randhir's Kovid being infected and hospitalized.
Randhir Kapoor has lost two brothers and a sister within a year
Significantly, three of the five children of Bollywood show Man Raj Kapoor have passed away in the last year and a half. Randhir's brother Rishi Kapoor died on 30 April 2020 after fighting a battle with cancer for two years. On 9 February 2021, younger brother Rajiv also said goodbye to the world from heart attack. Apart from this, sister Ritu Nanda died on 14 January 2020.
Randhir's film career and family
Randhir Kapoor made their Bollywood debut as a child artist with the film 'Shree 420'. Randhir Kapoor's important films include 'Kal Aaj Kal and Kal', 'Jawani Deewani', 'Rampur Ka Laxman' and 'Chacha Bhatija'. After this Randhir Kapoor married Babita and they both had two children, Kareena Kapoor and Karisma Kapoor. Kareena and Karisma are among the well-known actresses of Bollywood.